Duleek 5K 2019
Well done to all 22 of our athletes who took part in the Duleek 5k on 24th February 2019. Excellent times recorded, Both Pbs and Sbs recorded, as well as podium finishes by 3 of our athletes.
Was great to see Suzanne Foot back racing, and winning her age category, after a lengthy layoff through injury, The women's team (scoring; Suzanne, Ashling and Jean) finished 2nd, beaten by just 40 seconds by an excellent Na Fianna AC team. The Men's team finished 7th of 13 teams. Pbs from Gerry Keaty, over a minute off previous best, Mary Hayde and Dario Zanucetta. Ashling Smith, finished 3rd in her age Category and Dolores Gilliland had a great run finishing 2nd in her age Category.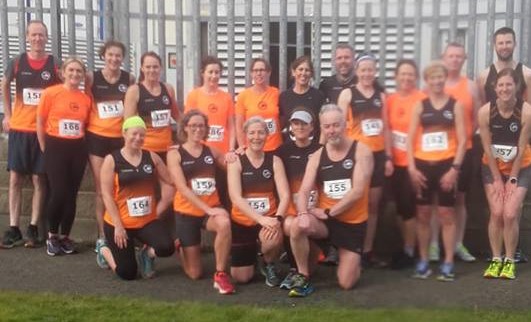 Congratulations to one and all, great club day out. Well done to ALL our athletes who took part in the Shanganagh Parkrun on Saturday 23rd Feb. Fine run from Ian McGrath, first athlete home in 17.42.
Congratulations to Conor Maher who ran a very impressive indoor debut, running 4.58 for the 1500mtrs at the NIA LIVE meet on Wednesday last 23rd FEB. Ashling Smith ran a fine 5,31 in the Mile at the same meet.